On January 9, 2018, Las Vegas hosted the 2018 Consumer Electronic Show (CES), one of the most popular and largest tech shows in the world.  It was the most impressive display of technology I've been to in my 25 years of working in law enforcement. I was very impressed by the sheer volume of companies from China and neighboring Asian industry leaders, such as Korea and Japan.  But first, let's talk numbers, which should give you an idea of the magnitude and immense opportunity CES provides.  This year's CES hosted approximately 3,900 exhibiting companies, from approximately 150 countries.  There were about 170,000 in attendance, which included 7,000 media outlets, all anxious to get a sneak peek at the latest technology.  For me, it was almost sensory overload and served as a great meeting place to come together and discuss business.
As a representative of Summit-Tek, I saw this as an opportunity to learn about the industry and meet some of the market leaders, as well as up and coming entrepreneur's.  We wanted to learn how these companies protected their brand, if at all, and if they practiced good, secure logistics.  As an expert in the field, we're able to guide companies through the tangled web of security programs such as the Customs Trade Partnership Against Terrorism (C-TPAT) and Authorized Economic Operator (AEO).  Our experience working in Asia, particularly South China, gave us the ability to understand not only the supply chain in that region but the ability to see down the road as to what's coming next.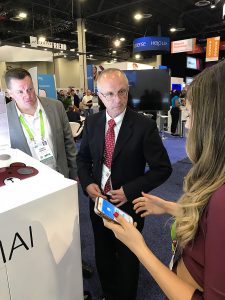 Remember the 3,900 exhibiting companies?  Nearly 40%, more specifically 1,551, of those were from mainland China, mostly Shenzhen.  We dedicated most of our days at CES speaking with many of the small to middle market Chinese companies looking to market their product in the United States, and we learned a lot about their import/export methodologies.  There was one consistent well-known brand brought up by almost every Chinese manufacturer for moving their goods around the global market –   Amazon!   Over the past several years, Amazon has effectively taken over the market share from independent third-party importers to move goods into the United States.  It's also become easier for Chinese manufacturers to rely on Amazon's fulfillment centers as the "deliver to" and "ultimate consignee" on their shipping documents rather than having to deal with all the other logistical challenges.  As you may or may not know, in 2015, Amazon applied for and received licenses to act as a wholesaler in the maritime environment to export goods from China and import said goods into the U.S. This means Amazon can purchase container space at a wholesale price and sell the space at a retail price.  This tactic reduced the price Amazon charges for shipping, which is very important to the Chinese exporter.   While convenient, many of these manufacturers told us that they still don't like the fees associated with Amazon's process.  On one of Amazon's discussion forums, it stated that on average, 30% of the gross income generated from sales goes to Amazon.  To be fair, we don't manufacture widgets or use Amazon to ship goods, so 30% might be a fair, reasonable price.  However, one constant flaw in Amazon's business process is that they don't have a good grasp on tracking their products in the supply chain.  And that can be a big problem!  I know this from personal experience due to watching the tracking on something I ordered. The expected tracking information will state that my product will be delivered on a certain date, only to show up two days earlier or two days later.  Not having the ability to accurately track products through the supply chain can lead to theft and potential fraud.
However, learning about Amazon wasn't our intended purpose for attending CES.  We wanted to learn about how these Chinese companies protected their brand, intellectual property, and products, if at all.  Did they practice good supply chain security?  Were they part of an AEO or CTPAT program?  Both of which serve as a benchmark for operating a secure supply chain, accompanied by some nice trade facilitation benefits.  In short, none of the small to mid-range Chinese companies that we visited with are practicing good supply chain security or participating in an AEO or CTPAT program.  Granted, the certification process for these programs is tedious.  The checklist alone is more than 250 questions, but it's well worth it!  Practicing good supply chain security will build confidence in your product and brand; not to mention a boost in sales.  The Chinese companies we spoke to seemed more concerned about the immediate sale and generating revenue, rather than growing a strong sustainable business.  This gives us purpose, opportunity, and determination to work with our foreign suppliers and instill the benefits of practicing good, secure logistical measures.  We left CES excited about the future of educating these companies on the best practices available for their businesses.  There's plenty of opportunity to help shore up the global supply chain through outreach and consultation!!